Topic Summary
Posted by: dral
« on: 29 June 2016 à 23h15 »
Nao, styliste personnel de Yamauchi
Posted by: Nao/Gilles
« on: 29 June 2016 à 22h46 »
Il est rondelet depuis toujours...
J'avais pas remarqué les clopes ahah.
Posted by: dral
« on: 29 June 2016 à 21h37 »
(Ca va, ça a l'air de cloper tranquille dans les lieux fermés au Japon.)
Il a l'air pas complètement 'joisse" sur cette photo, et je le trouve un peu rondelet. A mon avis, il a matté Soul of Gold et ça lui a retourné le cerveau
Posted by: Kurumauchi
« on: 29 June 2016 à 10h25 »
Si on passe l'image au filtre Yokai, on remarquera que c'est loin d'être gagné...
Personne ne comprendra ma vanne, j'en suis conscient... :3
Posted by: Nao/Gilles
« on: 28 June 2016 à 17h49 »
Bon sang, presque un an plus tard, toujours rien de Yamauchi...
Ca fait bientôt deux ans qu'il a disparu des radars.
Il n'est pas mort, j'ai vu il y a quelques mois une photo de lui sur twitter, quelqu'un qui venait de passer quelques heures avec lui au resto. Sans lien avec l'animation je crois...
C'est chiant, quand même.
https://twitter.com/hashtag/山内重保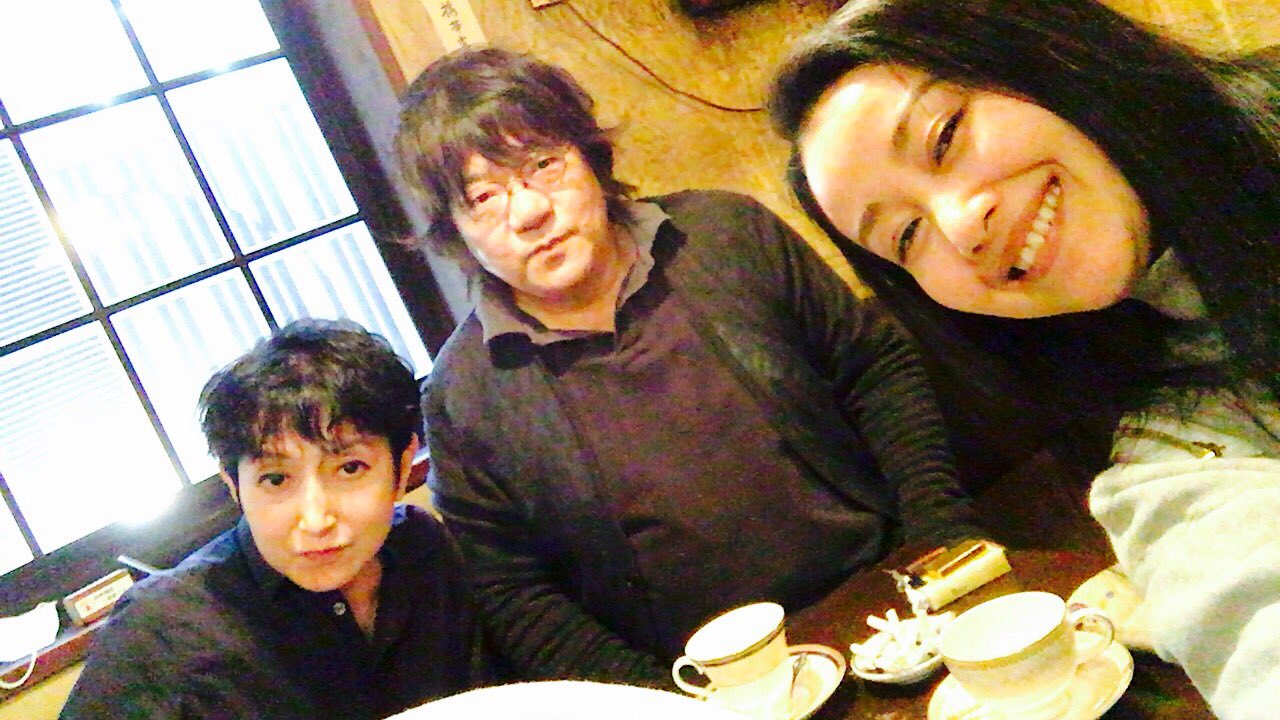 Posted by: Nao/Gilles
« on: 8 October 2015 à 0h17 »
On arrive dans le dernier quart de 2015, et Yamauchi n'a toujours pas sorti quoi que ce soit cette année... Retraite anticipée ? Misère totale ? Exécution sommaire par les sbires de Kurumada ?
Je n'en sais rien...
Et comme faute de grive, on mange des merles, je me suis regardé un peu par curiosité les plus anciens travaux connus de Yamauchi en tant que directeur technique, soit Daikengo et God Sigma. Eh bien, euh... Comment dire..? A ma grande surprise, déjà en 1978 (épisode 3 de Daikengo, peut-être donc son premier travail de mise en scène), il y a des plans yamauchiens sur les jambes et les hanches !
Bon, c'est pas très joli, mais c'est d'époque.
Le plus drôle, c'est que ça n'est pas crédité Shigeyasu Yamauchi, mais Hiroshi Yamanouchi. Un pseudonyme, ou son vrai nom..?
Quant à God Sigma, l'épisode que j'ai regardé n'avait pas de style yamauchien marqué, et il est ici crédité comme "Shigeyasu Deyamauchi". Oui, il y a le "de" de "sortie"
[1]
au début de son nom. Peut-être une erreur de synthé, je ne sais pas...
| | |
| --- | --- |
| 1. | Et accessoirement c'est aussi le "shutsu" de "enshutsu", soit "direction technique"... |
Posted by: dral
« on: 29 April 2015 à 22h04 »
J'ai chargé Condition Green pour mes vacances cet été
Posted by: Kurumauchi
« on: 28 April 2015 à 22h54 »
Je vois pourquoi tu as aimé ce second épisode de condition green. J'y vois graphiquement de fortes similitudes (jusqu'à dans les décors!) avec le dernier épisode de Saint Seiya sur Bud & Cid. Et je pense avoir compris de tes différents postes que tu aimes particulièrement celui-là. :3
Ya bien sûr aussi la scène de la flotte qui fait penser à l'intro d' Abel mais en moins bien. Les images se succèdent de façon trop speedée, comme si le storyboard de Yamauchi n'était pas adapté correctement. :/ (1988 <>1991 hummm...)
Il n'est pas désagréable à regarder car il y a des plans bien animés (cad avec un framerate élevé, ce qui est rare sur du Araki-Himeno) , "originaux" (je me comprends) et puis la nunuche de l'épisode a des faux airs de Maria Fleed. huhuhu :3
Du coup, j'ai survolé les autres épisodes mais c'est vraiment désastreux.
(Il y a tout de même eu de la bonne volonté sur le 5ème et 6ème)
Le pire anti-climax est l'image qui conclu quasi la saga:
Le dessinateur avait peur de ne pas pouvoir chopper le dernier train pour rentrer chez lui, ou kwé? :v
Posted by: Kurumauchi
« on: 28 April 2015 à 14h31 »
AH bon?
Allright, je me matte ça ce soir!
Posted by: Nao/Gilles
« on: 27 April 2015 à 22h52 »
Non, pas normal.

Condition Green, il faut juste regarder la fin du 2, c'est un des meilleurs moments yamauchiens.
Posted by: dral
« on: 26 April 2015 à 23h12 »
Ah ouais ? J'aurais pourtant juré que... Pour le coup, je viens de faire la modif.
Par contre, impossible de trouver une page Wiki sur Yamauchi, normal ?
Posted by: Kurumauchi
« on: 26 April 2015 à 22h59 »
Merci pour l'info!
Me suis matté des fragments de Dragon Fist et Condition Green, c'est chaud à regarder en 2015 tout de même.
Mais c'est top d'avoir pu se faire (enfiiiin!) une idée!
Posted by: Nao/Gilles
« on: 26 April 2015 à 22h57 »
Tu sais, sur wikipedia tu peux corriger les erreurs, même sans compte...
Posted by: dral
« on: 26 April 2015 à 22h19 »
Plot by Wikipédia US :
"The series follows Ling Fei-long, a Chinese transfer student living in Japan. Ling is the son of the leader of the White Dragon clan, one of four clans who live in the mountains of China and are descended from mythical beasts. After killing an ordinary human, Ling is banished to Japan so that he might learn about humanity and how to control his powers around them."
Manga en 14 volumes quand même.
Par contre, le gars qui a rédigé la page s'est bien planté dans la transcription du nom de Yamauchi
Je viens de me charger le lien, je materai peut-être ça pendant mes vacances cet été.
Posted by: Nao/Gilles
« on: 25 April 2015 à 11h23 »
Je sais même plus ce que ça raconte... Et l'OAV adapte juste un petit bout pour promouvoir le manga. Il est sorti en 1991. Eh, à l'époque on aurait DÛ avoir Hadès...